What do you start with? Saving electricity bills at home
Currently, the price of fuel continues to rise due to the effects of corona and Russia's invasion of Ukraine, and the price of the renewable energy power generation promotion levy continues. For this reason, many electric power companies have announced price hikes one after another this year, and many people may be feeling that their electricity bills have risen even at home.
Therefore, we will tell you about the breakdown of general electricity bills and how you can save electricity bills at home.
Electricity bill breakdown
Even if you check the monthly billing amount, I think that there are many people who do not know how the billing amount is determined.
Below is a breakdown of typical electricity bills.

QuoteAgency for Natural Resources and Energy, Ministry of Economy, Trade and Industry
Saving electricity bills
Here are some ways you can save money on your electricity bills at home:
◎ Reduce electricity usage
The power consumption ratio of home appliances is shown in the figure below.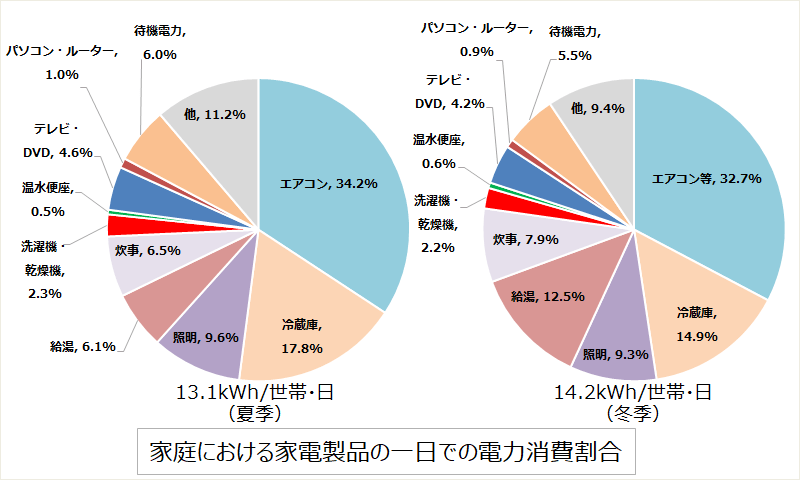 QuoteAgency for Natural Resources and Energy, Ministry of Economy, Trade and Industry
First of all, we recommend saving on air conditioners and refrigerators, which are said to consume a large amount of electricity. Specifically, there are the following methods.
air conditioner
・ Do not place objects around the outdoor unit・・・By not placing anything around the outdoor unit, you can prevent the effect of cooling and heating from decreasing.
・Clean filters, etc.・・・You can maintain heating efficiency by performing regular maintenance and keeping it clean.
・Using fan Use a fan to circulate the air in the room and prevent uneven temperature in the room.
etc
refrigerator
・Reduce the number and time of opening ・・・By preventing cold air from escaping, it becomes easier to maintain the temperature inside the refrigerator.
・Set a little away from the wall Yes ・・・Efficient heat dissipation by installing with a gap of 5 cm or more around
・Do not overfill... In addition to preventing poor flow of cold air, it also has the effect of shortening the time the door is open.
etc
In addition to the above methods, it is also effective to replace the electrical appliances with new ones if they are old.
In recent years, the efficiency of energy-consuming equipment has improved significantly, and choosing energy-saving products can reduce electricity consumption.
Air conditioners can save energy by about 17% compared to 10 years ago, and refrigerators can save energy by about 40-47% compared to 10 years ago.
◎ Review of rate plans and electric power companies
According to the law established in 2016, various companies can enter the retail business and freely choose the electric power company, although until now they could only contract with electric power companies decided by region. became.
For example, there are "charges by time zone", "credit card points", "set discounts for internet and gas, etc."
It is important to compare the electricity rates and service content of each company and choose a company that matches your individual lifestyle and values.
If there are too many plans and you don't know what to do, we will introduce the most suitable plan for your lifestyle, so please feel free to contact us.
Actual voice of a customer who changed electricity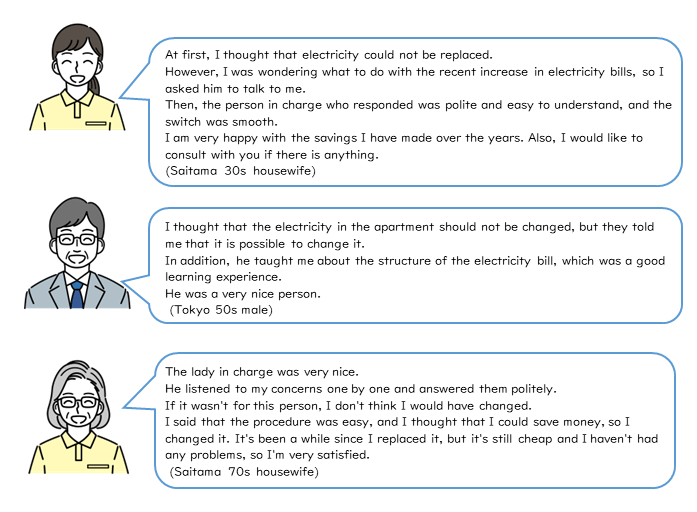 How much can you save?
example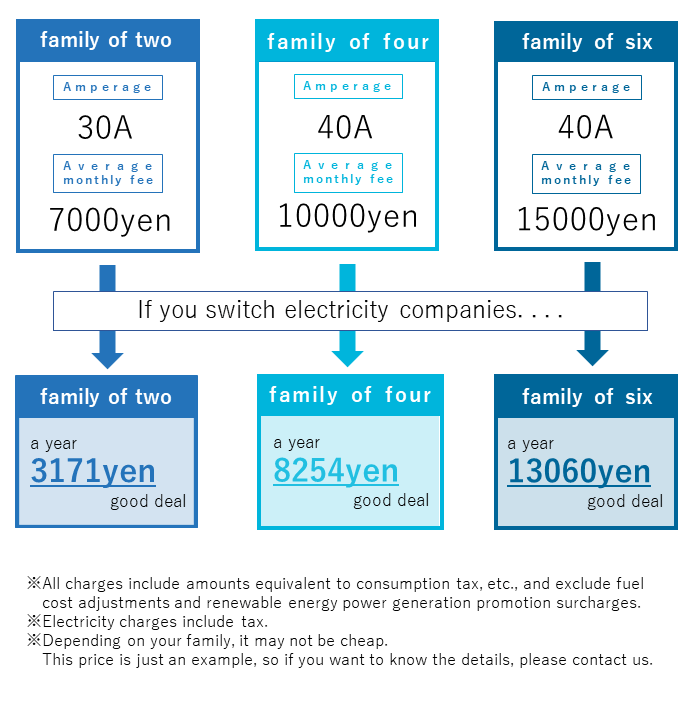 at the end
Even if you say saving, we recommend that you start with what you can do without overdoing it in your life.
Electricity prices are rising, and depending on the season, the amount of electricity used will also increase, so if you are concerned about it, please take measures as soon as possible.
What you can do depends on your family.
Please contact us for details.